Donors receive a Friends of ICU card with any gift of ¥10,000 or more.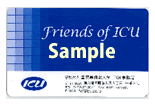 Benefits of Friends of ICU (FOI) Cards (as of 1 April 2014)
Join us for organ concerts and Christmas concerts in the University Chapel. Just show your card at the chapel entrance. The card grants admittance for one person. Concert schedules can be found on the website of the Sacred Music Center.
Show your card at the university's front gate to receive a free ticket to use campus parking. (This benefit does not apply to students.)
Receive a 10% discount when using facilities in the Alumni House. (Japanese version only)
Receive a 10% discount when taking classes through ICU's lifelong learning. (Japanese version only)
Receive a recommendation to an ICU Library Friend. Individuals may become a Library Friend for a small fee and receive permission to use many of the library resources. (An alumnus/a does not require a recommendation to become a Library Friend.)
The ICU president will send a congratulatory telegram message at card owners' weddings on request. Please contact the Advancement Office at least 2 weeks prior to the wedding.
Receive "The ICU" magazine, published twice per year.
A FOI card is issued to donor as a token of appreciation and only the owner of the card receives its benefits.
Changes of the benefit will be announced through university publications and this homepage.