Lectures
September 17, 2013
ICU献学60周年記念事業講演会
熱烈な信念とインクルーシブ社会
ICU 60th Anniversary Project Lecture
Passionate Conviction and
Inclusive Community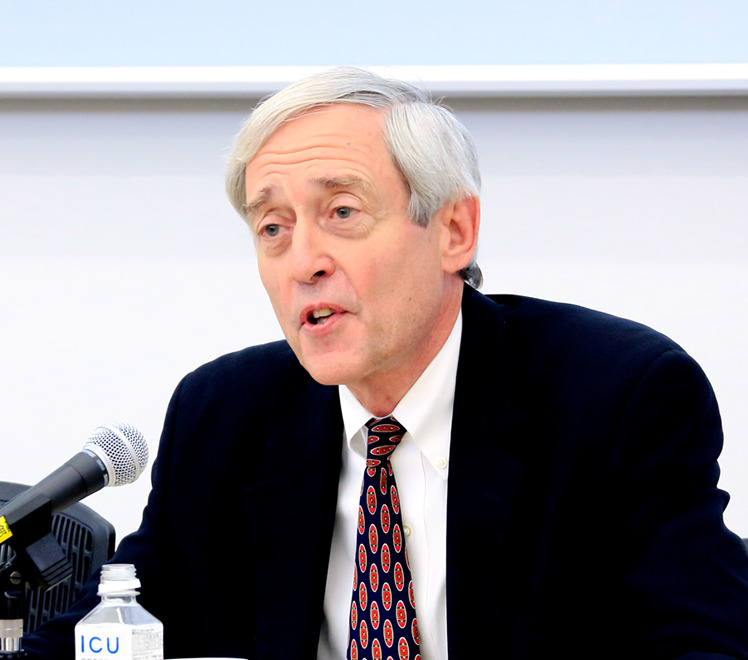 カーネギー・カウンシル シニアフェロー George Rupp博士
Dr. George Rupp, Senior Fellow at the Carnegie Council
個人の信念は、
肯定的主張(affirmations)、
誓約(commitments)、
慣行(practice)で成り立つ。
An individual's convictions are made up of their affirmations,commitments,
and practices.
自分の信念を絶対的に正しいとする立場も、他人の信念を許容すべきという立場も、
グローバリゼーションのもとでは存続できない。
Some believe strongly that their convictions are absolutely right,
and others believe we must show tolerance for the beliefs of others,
but in this age of globalization, neither standpoint can survive.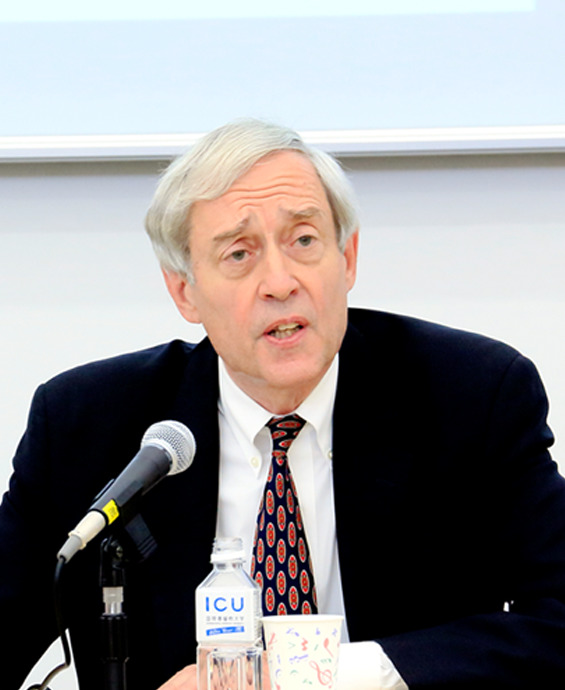 テロの脅威が平和を脅かす今日、
「熱烈な信念」をコントロールする
手だてが求められている。
あらゆる見解を容認したり、多角的視点から眺めたりするだけではなく、
対立する当事者たちの本質的価値を認め、評価しなければならない。
A way of controlling "passionate convictions"
is needed, particularly now that
terrorism is such a threat to peace.
It cannot be based in simple openness to all views and acceptance of multiple perspectives.
It must also acknowledge and evaluate the core values that motivate the
people who are bringing these conflicts to life.
私たちは「相対的な視点
(comparative perspective)」を持ち、
個々の見解に目を向ける必要があるのだ。
相対的な視点は批判的かつ自己批判的だ。多様な社会が共存する現在において、
一つの伝統・宗教の中にも多様性があることに気づけるのである。
We should have a more "comparative perspective"
that involves giving public attention to
what would normally be private opinion.
This comparative perspective will allow for both external and internal criticism.
This allows those of us who live in diverse, shared societies to see the great diversity
that even lies within what are considered unified traditions and religions.
世界的な統合が実現できれば、インクルーシブ社会に向かって進めるかもしれない。
世界が各種の公共政策を実施することによってのみ、インクルーシブ社会の実現は可能である。
Greater global integration could also lead to more inclusive sense of community.
A more inclusive community can only be realized when the world adopts a variety of public policy initiatives.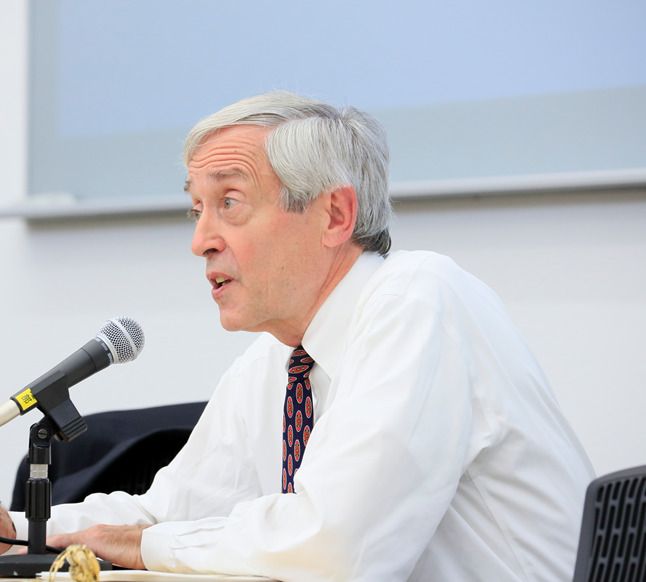 宗教的、民族的、教育的、
政治的、職業上のコミュニティが持つ、
「ツール」と「つながり」を
再構築することが求められる。
こうしたコミュニティは、グローバリゼーションを通じて
実現すべきインクルーシブ社会を構築する可能性を秘めている。
The tools and connections used by
communities founded upon religious, ethnic,
educational, political,
and vocational traditions
need to be restructured.
Such communities are potentially capable of using globalization to build the inclusive societies we need.