INTRODUCTION
The ICU Hachiro Yuasa Memorial Museum was opened in June, 1982. It was built to commemorate the contribution made by the late Dr. Hachiro Yuasa to ICU, in particular his great effort in founding and nurturing the university through its first quarter of a century, and serving as its first president.
The main collection of the museum consists of folk art materials from Japan and other parts of the world assembled by Dr. Yuasa, some of the prehistoric materials excavated from the ICU campus, and other works of art and historical objects. One goal of the museum is to enrich the collections, and changes in exhibitions will include new acquisitions.
●Introduction video: [Welcome to the Yuasa Museum!] (link to YouTube)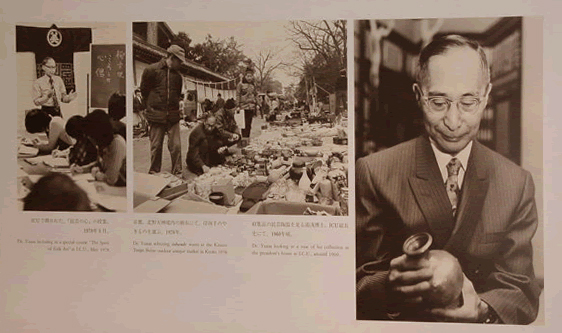 HISTORY
1974
May 31
Establishment of the ICU Museum was planned as one of the 25th Anniversary projects.
1978
May 23

Dr. Hachiro Yuasa delivered a series of lectures entitled "The Spirit of Mingei (Folk Art)" at ICU. About 900 pieces of his folk art collection were brought from Kyoto to ICU. After the exhibition, they were kept in ICU.

June 19
The Executive Committee of the Board of Trustees approved the plan of the establishment of the Yuasa Memorial Museum (tentative name).
1979
August
The office of the Preparatory Committee was opened in the Administration Building. Dr. Yuasa donated most of his collection to ICU. Cataloging of the collection was begun.
1981
May 11
The ground breaking ceremony for the Museum was held, and the construction started.
August 15
Dr. Hachiro Yuasa died at the age of 91.
1982
January 20
The construction of the Yuasa Museum was completed.
May 28
The inauguration ceremony for the Museum was held, and the Museum was opened for inspection.
June 1
Dr. J. E. Kidder was appointed as the first director of the Museum and the Museum was opened to the public.
1983
April 1
The Museum became a member of the Japanese Association of Museums.
1987
March 10
The Museum received the Yamamoto Yuzo Cultural Prize.
2002
June 1
The Museum celebrated its 20th anniversary.